Last changed 21 Oct 2012 ............... Length about 900 words (10,000 bytes).
(Document started on 4 Aug 2010.) This is a WWW document maintained by Steve Draper, installed at http://www.psy.gla.ac.uk/~steve/kgrant.html. You may copy it. How to refer to it.

Web site logical path: [www.psy.gla.ac.uk] [~steve] [this page]
Katie Grant
By Steve Draper, Department of Psychology, University of Glasgow.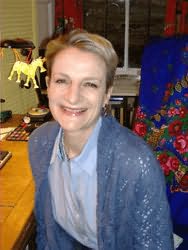 ext. 7252 Room F122, Sir Alwyn Williams Building (computing science)
Room 535 ext.1970, Education building
This is my page to hold pointers to, and perhaps comments on, Katie Grant.
Her personal university-hosted page [ page edit-it admin-login ] Now being taken down.
A publisher-organised page
Other refs to Katie Grant
Penguin books
Advancing Academic Writing project
Moodle with the materials of the Advancing Academic Writing project (funded by two successive LTDF grants titled "Writing for results").
Wingate and literacies as one angle on this.
The key features of AAW
All help about is writing is in one place. (Not a dozen different guides to spelling, report formats, referencing styles, how to write a logical paragraph, ...)
Active exercises (with feedback). (Not passive reading dictionaries, written feedback, ...; but doing things.)
Discipline specific

Rules for writing are different in each discipline (formats, style, .....)
Based on actual observed recent student errors in that discipline. (Not bad writing that some other person in some other institution and discipline might commit.)
Exercises /examples are all in that subject area: immediately familiar and relevant to the student.
---
Other stuff; ToDo
I need to create:
[done] Page summarising why the writing project should attract adopters
My own large page on it OR trust Katie's pages and sites
Page on related projects: math, graphs, reading
Web notes for a future reading project
Just as advancing writing, so for advancing reading. Are we reading as well as we should/could? and other thoughts.

What might an Advancing Reading Project involve?
"Speed reading" and being able to vary one's reading speed to suit the nature of the material.
Timing: Jane Davis is clear about how the seed at which you process a text (silent reading vs. listening) changes how you respond to it. And that could relate to "catastrophic thinking" vs. mindfulness.
Reading aloud to others. Reading as social, not private.
Reading aloud to one's partner.
Telling stories. Reading is an offshoot of story-telling.
Perhaps this connects with (could be combined with) an initiative to promote (scaffold) academic conversation: allow others' differences in views, responses, to stimulate your own thinking.
Especially, telling i.e. composing one's own story(s) as an essential part of human thinking and well-being.
Well-being depends on being connected; on spending time in meaningful interchange with other people. Peter Owen Jones on st.Francis.
Keith Oatley on how reading novels is an education of one's emotions and understanding of emotions.

Oatley, K., & Olson, D. R. (2010). Cues to the imagination in memoir, science, and fiction. Review of General Psychology, 12, 56-64.
Mar, R. A., Oatley, K., & Peterson, J. B. (2009). Exploring the link between reading fiction and empathy: Ruling out individual differences and examining outcomes. Communications: The European Journal of Communication, 34, 407-428.
Oatley, K. (2009). Communications to self and others: Emotional experience and its skills. Emotion Review, 1, 206-213.
Djikic, M., Oatley, K., Zoeterman, S., & Peterson, J. (2009b). Defenceless against art? Impact of reading fiction emotion in avoidantly attached individuals. Journal of Research in Personality, 43, 14-17.
Djikic, M., Oatley, K., Zoeterman, S., & Peterson, J. (2009a). On being moved by art: How reading fiction transforms the self. Creativity Research Journal, 21, 24-29.
Oatley, K. & Djikic, M. (2008) Writing as thinking. Review of General Psychology, 12, 9-27.
Mar, R.A. & Oatley, K. (2008). The function of fiction is the abstraction and simulation of social experience. Perspectives on Psychological Science, 3, 173-192.
Mar, R.A., Oatley, K., Hirsh, J., dela Paz, J., & Peterson, J.B. (2006). Bookworms versus nerds: The social abilities of fiction and non-fiction readers. Journal of Research in Personality, 40, 694-712.
Oatley, K. (1999). Why fiction may be twice as true as fact: Fiction as cognitive and emotional simulation. Review of General Psychology, 3, 101-117.
Oatley, K. (1998). Emotion. The Psychologist, 11, 285-288.
Jane Davis and her project
Jane Davis herself: Jane Davis janedavis AT thereader.org.uk
Her organisation: The Reader Organisation
Her intervention: Get Into Reading and here
A 2 year MA course "Reading in Practice". The Reading in Practice MA is the first of its kind in the country. It invites open-minded investigation into the role of reading in relation to health - in the broadest sense of that word
Hodge S, Robinson J and Davis P (2007) Reading between the lines: the experiences of taking part in a community reading project. Medical Humanities vol.33 pp.100-104
Jane Davis paper in Lancet 2009 "Enjoying and enduring: groups reading aloud for wellbeing"

I'm told this should be seen as a form of bibliotherapy (cf. music therapy, and art therapy). And Human Libraries events.

Web site logical path: [www.psy.gla.ac.uk] [~steve] [this page]
[Top of this page]